What is Herbalife?
How do I become an Herbalife distributor?
How much does it cost to join Herbalife ?
How much do Herbalife Distributors Earn?
The average distributor earns around $549 annually but if you are good at digital marketing, social media marketing or search engine optimization then you can earn significantly more.
How can I buy Herbalife Products?
Go to Herbalife shop and then use my distributor ID to make purchase.  You cannot order Herbalife products without a Distributor ID referral. 
Use my distributor ID to purchase Herbalife products: 10Y2160524
Do Herbalife products help you lose weight?
Herbalife meal replacement shakes
Each serving (two scoops or 25 grams) of the Herbalife meal replacement shake mix contains (1):
Calories: 90
Fat: 1 gram
Carbs: 13 grams
Fiber: 3 grams
Sugar: 9 grams
Protein: 9 grams
When mixed with 8 ounces (240 mL) of nonfat milk, the mix provides 170 calories per serving and is intended to be a low calorie meal replacement.
In general, meal replacement shakes can help you lose weight when used for up to 1 year.
Only one study, which Herbalife sponsored, has tested the effectiveness of Herbalife shakes specifically.
This study found that people who replaced 2 meals per day with Herbalife shakes lost an average 12.5 pounds (5 kg) in 12 weeks
What are the best Herbalife Supplements?
Herbalife supplements
The supplements recommended in the Herbalife weight loss programs include:
Formula 2 Multivitamin: a standard multivitamin with several minerals for general nutrition
Formula 3 Cell Activator: a supplement with alpha-lipoic acid, aloe vera, pomegranate, rhodiola, pine bark, and resveratrol that claims to support nutrient absorption, metabolism, and mitochondrial health
Herbal Tea Concentrate: a powdered drink mix with tea extracts and caffeine that's meant to provide extra energy and antioxidant support
Total Control: a supplement containing caffeine,
ginger, three kinds of tea (green, black, and oolong), and pomegranate
rind that claims to boost energy
Cell-U-Loss: a supplement containing electrolytes,
corn silk extract, parsley, dandelion, and asparagus root that's meant
to reduce water retention
Snack Defense: a supplement containing chromium and Gymnema sylvestre extract that claims to support carbohydrate metabolism
Aminogen: a supplement containing protease enzymes, which are said to improve protein digestion
While these supplements contain many ingredients and claim to help with energy, metabolism, and weight loss, there have been no studies to prove their effectiveness.
Are Herbalife products good for you?
Benefits of Herbalife
In addition to aiding weight loss, the Herbalife program has a few more benefits.
It's easy and convenient
Meal replacement shakes like the ones used in the Herbalife diet can
be attractive for busy people or those who lack the time or interest to
cook.
To make the shake, all you have to do is mix 2 scoops of powder with 8
ounces (240 mL) of nonfat milk and enjoy. The powder can also be
blended with ice or fruit for a smoothie-style drink.
Drinking shakes
instead of cooking can dramatically cut down on time spent planning,
shopping, and preparing meals. The Herbalife program is also very easy
to follow.
Soy-based shakes may be good for your heart
The main ingredient in most of the Herbalife meal replacement shakes
is soy protein isolate, a type of protein powder that comes from
soybeans.
Some research suggests that eating soy protein may lower cholesterol levels and reduce your risk of heart disease (8Trusted Source).
However, nearly 50 grams per day are needed to realize these effects (9Trusted Source, 10Trusted Source).
Two servings of Herbalife meal replacement shakes contain only 18
grams, so additional soy foods would need to be included in your diet (1).
A soy-free, dairy-free formula is available
For those with allergies or sensitivities to soy or cow's milk,
Herbalife offers an alternative meal replacement shake made with pea,
rice, and sesame proteins (1).
This product is also made from nongenetically modified ingredients, for those who wish to avoid GMOs.
What are the available shipping methods?
Choose a Shipping Method
When selecting your shipping method, please consider that orders for
shipping are only processed by our warehouse during Monday – Friday
(exclude company holidays). All orders will be shipped by the next
business day after the order has been processed. Example: all orders
placed on Saturday or Sunday will be processed on Monday; once the order
is processed, the order will ship out on Tuesday.
How do I track my Herbalife order?
How do I track my Herbalife order?
You can also check the status of your orders in Herbalife account section. In the My Account page, click on the 'My Orders' to view the status of all your Herbalife orders. To view the status of a Particular order, click on the 'Order Number' link. Click above link to go to "Herbalife My Account" page.
HOW TO TRACK AN ORDER WITHOUT A TRACKING NUMBER?
Herbalife Order Number.
Destination Country.
Destination Postal Code.
Order Date.
You can get this information from the Order's Shipping Details on MyHerbalife.

Enter the order details in the given fields, then click on Track.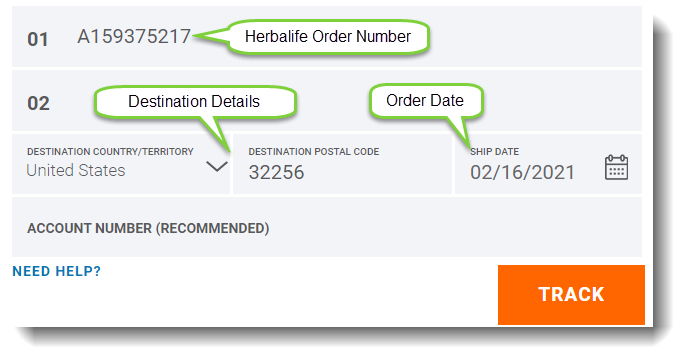 FedEx will provide the tracking information for the specified order.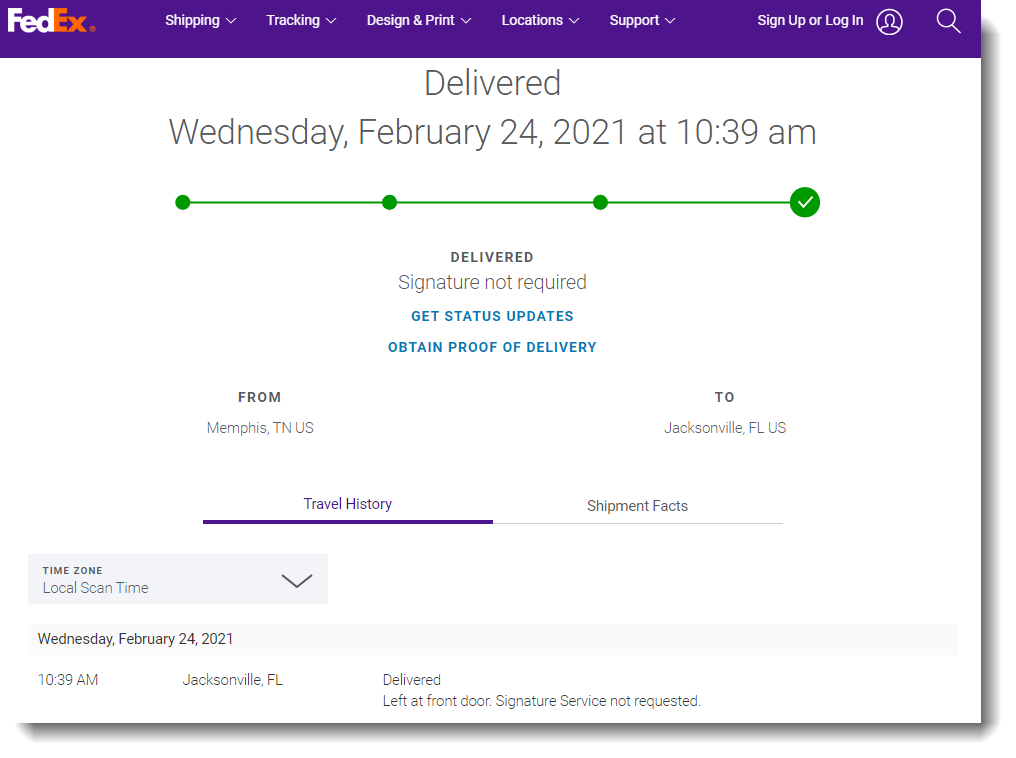 How do I request a return or exchange?
Distributor Refund Policy:
If Distributorship is canceled for any reason, you may return all
unopened products that were purchased in the previous 12 months for a
full refund. To obtain a refund, Distributors may call Herbalife
Nutrition at 866-866-4744 or submit the refund form available at
MyHerbalife.com.
Herbalife Nutrition Customer and Preferred Member Refund Policy:
If for any reason you are not completely satisfied with any Herbalife
Nutrition product purchased directly from Herbalife Nutrition or an
Herbalife Nutrition Independent Distributor, you may return it within 30
days from receipt for a full refund or product exchange. Refunds and
exchanges may be obtained by following the instructions available at
Herbalife.com or by calling 866-866-4744 or by contacting your Herbalife
Nutrition Independent Distributor.